Annually, the Upper Kiewa Valley Community Association discuss the issue of outstanding service provided by an individual or group in our community.  This Award is not always given annually but the topic mentioned by many this year was the Mt. Beauty swimming pool staff and facility.  UKVCA felt a Special Community Award was deserved.  This was presented at the Australia Day celebration in Hydro Park.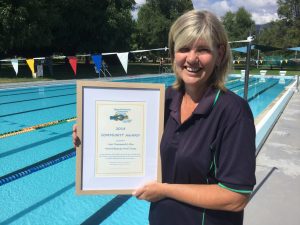 Swimming Pool manager, Lisa Townsend, with the Award.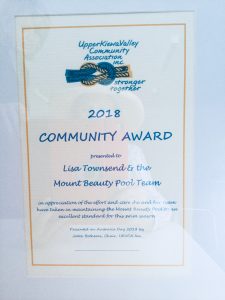 The Award is on display in the Swimming Pool Office and reads……….
presented to Lisa Townsend and the Mount Beauty Pool Team in appreciation of the effort and care she and her team have taken in maintaining the Mount Beauty Pool to an excellent standard for this swim season.
---