Aerial Deer Shooting – Bogong High Plains – March/April 2022
Hi All
REMINDER – Parks Victoria will be conducting aerial shooting operations on the Bogong High Plains and Mt Bogong areas in the Alpine National Park, over the next few weeks:
Parks Victoria's will be aerial shooting in the Alpine National Park, around the Bogong High Plains, from the 28th March to the 1st April, and from the 4th April to the 8th April.
The aim of this program is to reduce deer activity around significant environmental values that are vulnerable to deer impacts, including alpine wetlands.
The areas that will be targeted will be closed (see attached map). The majority of walking tracks and visitor sites will remain open. There are some Management Vehicle Only tracks that will be closed (Moncrieff's Gap Track, East Kiewa Firetrail, Little Bogong Track, Ropers Track, Mt Arthur Firetrail, Spion Track, Junction Spur Track, Red Fox Track, lower part of Big River Firetrail).
During aerial shooting, you may see helicopters and hear gunshots.
Suitably qualified and experienced contractors have been engaged to deliver the work. They follow all relevant legislation, Codes of Practice and Standard Operating Procedures to ensure that high standards of animal welfare are maintained during operations.
For more information visit:
Overall Project: www.parks.vic.gov.au/projects/deer-and-feral-animal-control-in-response-to-bushfire
Current Closures (Alpine National Park): https://www.parks.vic.gov.au/places-to-see/parks/alpine-national-park
(note – scroll to the bottom of Alpine National Park page for "Change of Conditions" then "Alpine National Park")
For more information on conditions in other specific parks visit that Park's page on the Parks Victoria website: www.parks.vic.gov.au
With many thanks
Cheers
Kev
____________________________
Kevin Cosgriff
Ranger Team Leader | Kiewa and Murray
Parks Victoria
PO Box 309, Tawonga South, VIC 3698
'I respectfully acknowledge the Traditional Owners of the country throughout Victoria and the ongoing living culture of Aboriginal people'
---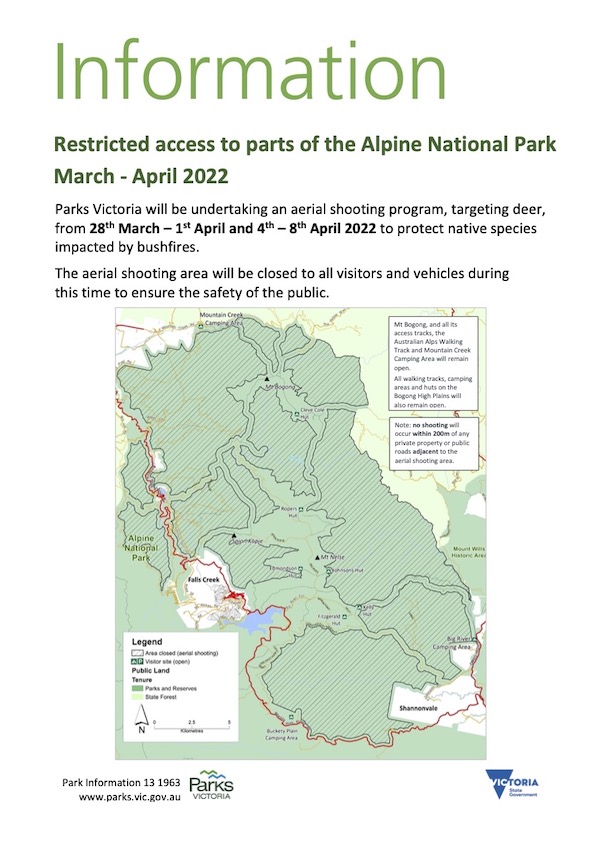 ---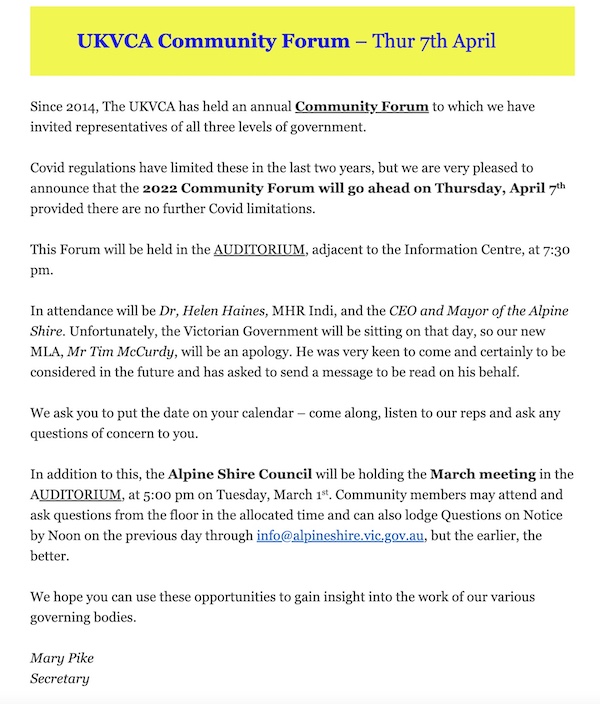 ---
Join UKVCA & support the organisation
The continuing advocacy for our towns and region incurs significant administrative costs, so we rely heavily on community contributions by way of membership fees.
2021/22 membership fees — $10.00 per household or $15.00 per business or organisation.
Please pay by Direct Credit. Bank details: Bendigo Bank USB: 633 00, Account No. 156 980 120 or over the counter at the Bendigo Bank.
If you would like more information on the association or wish to access a Membership Form please visit the UKVCA website <www.ukvcommunity.org.au> and select Membership from the menu bar.
---
Automated External Defibrillator (AED) – Local locations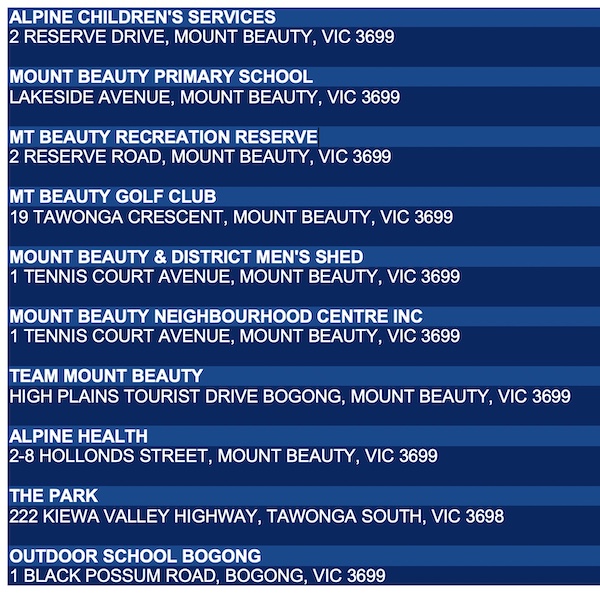 ---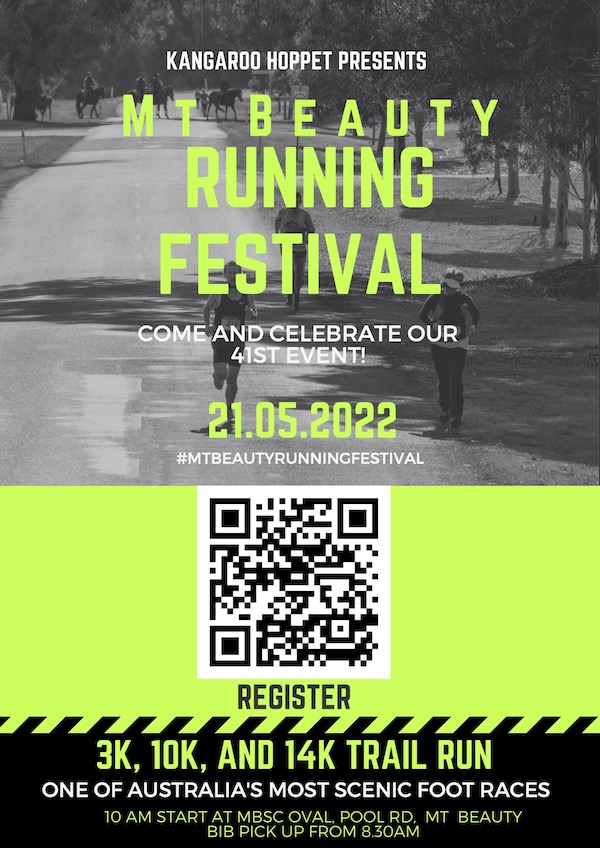 ---

Alpine Community Recovery Newsletter – February 2022
Click Alpine Community Recovery Newsletter & Alpine Chat to read the latest.
To receive this very informative newsletter each month click [HERE] to subscribe.
---