The Alpine Shire has launched a Directory of Activities within the Alpine Shire titled Positive Ageing…..way to go!  It is a diverse listing of recreational activities and community organisations for older people in the Alpine Shire.  There are over 170 listings and  80 have detailed information. 
In the last census, over 30% of Alpine Shire residents were over 60 years of age.  It is predicted that within in the next 10 years, 41% of residents will be in that age group.  The aim of the Directory is to enable residents in this age group to connect with people and groups, achieve goals and enhance health and well-being.
Mayor, Jan Vonax launched the Directory on the 29th May, 2015.  The launch was attended by representives of many of the groups who contributed  to the Directory.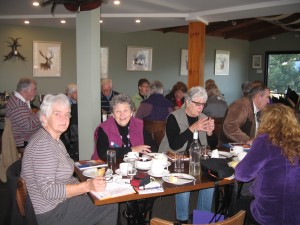 Mary Pike, Mary Hardman, Laraine Zejbrlik, Don Pollock and Trish Cross represented the Kiewa Valley at the launch.