There was a full house at the Auditorium@informationcentre for the recent Community Forum.  Guest presenters included Dave Barry, CEO of the Alpine Shire Council,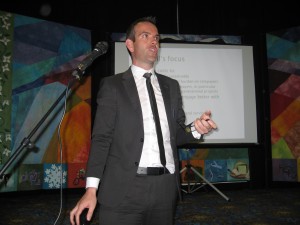 who talked of the restructuring that has taken place in Council operations in the last 18 months.  He also spoke of the many projects that are about to commence in Mt. Beauty.
Timo Mantyvirto from AGL gave an update on the work around the Pondage and Lachlan Campbell from NECMA (North East Catchment Water Authority) spoke of the wonderful work being done by the Green Army around Mt. Beauty in the current round. With community support there is the possibility of a second round of Green Army participation this year.
A question and answer session from the audience followed the presentations.
Following a refreshment break the group then developed a list of ideas for the open space opposite AGL and the Information Centre as well as a wish list for the space around the AGL pondage.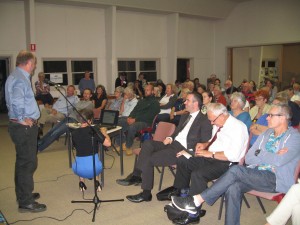 The UKVCA were delighted to see the Community interest shown in this Forum and to note lots of new faces in the audience.   You will be notified of the next Forum on this site, on the "What's on in…" Facebook site, in the regular UKVCA reports in The Observer and flyers will be posted around the community.